EXPERTISE
Hy-tech Controls Range of Value added Services:
From the plant floor to the top management, Hy-tech Controls can provide the right solution at the right time. Through our industry knowledge and experience, we can extend your performance gains across your business with, the only integrated control and information platform that runs discrete, motion, drives, process and safety control, assuring the different automation technologies work together. We have improved processes throughout every stage of the manufacturing cycle. We bring together leading technologies in enterprise software solutions and industrial automation & controls to you.
Hy-tech Controls has in- house capabilities and expertise to offer turnkey solutions to its clients, incorporating the following services: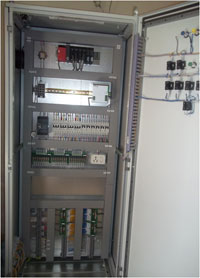 1. Consulting for industrial automation and control strategies.
2. Transformation of legacy Control systems to PLC based control systems.
3. System Design and Engineering.
4. Project Management.
5. Material Procurement.
6. Panel assembly and testing.
7. Installation and Commissioning.
8. Onsite technical and training support.
9. Supervision of Erection and Commissioning.
10. Comprehensive documentation.
11. Final acceptance test and handling over.
12. After sales support.
13. System maintenance contract.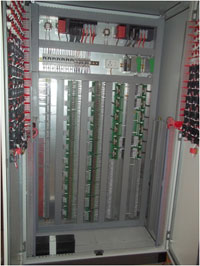 Hy-tech Controls Area of Expertise:
Power system
A. Substation Automation
B. SCADA System
C. Rotational Load Sharing System
D. Energy Management System
E. Complete Power Plant (Boiler, Turbine, Ash Handling System)
F. DG Sets Automation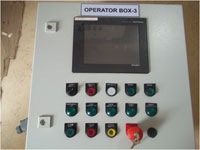 Tyre Manufacturing Industries:
A. Tyre Cut to Length M/C
B. Tyre Building
C. Mixing- Banbury (Rubber Mixture) Automation & Recipe Control
D. Tyre Cutting, Extrusion
E. Testing M/C
F. Introduction Hardening
G. DG Sets Automation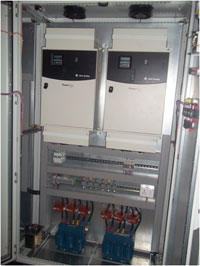 Picture Tube Industries:
A. NTRO M/C
B. Conveyors
C. Neck- Sealing
D. Glass Tube Manufacturing
E. Press M/C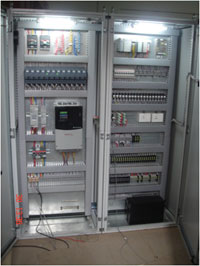 Automotive Industries:
A. Four Wheeler Manufacturers
B. Two Wheeler Manufacturers
C. Tyre and Tube Manufacturers
D. Heavy Duty Vehicle Manufacturers
E. Car Washing M/C Manufacturers
F. Fuel/ Air Pump for Four/ Two Wheeler Manufacturers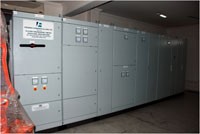 Material handling:
A. Conveying Systems
B. Crushing/ Screening plants
C. Batch Process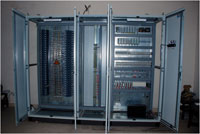 Food & Beverages and Packaging Industries:
A. Food Processing
B. Rice Processing and Packaging
C. Soft Drink Plants
D. Milk Plants
E. Health Food Manufacturers
F. Water Processing and packaging
G. Sugar Manufacturing
H. Cigarette Manufacturing
Chemical Industries:
A. Continuous Process
B. Batch Process
Metal Industries:
A. Steel Plants
B. Rolling Mills
C. Tin and Iron Works
D. Wire Drawing Machines
Process Industries:
A. Polymers Processing Industries
B. Chemical and Oil Industries
C. Glass Industries
D. Machine Tool Industries
E. Cement Manufacturing
F. SPM Manufacturing
G. Injection Molding Machines
H. Paper and Pulp Industries.